Bachelor International Business Administration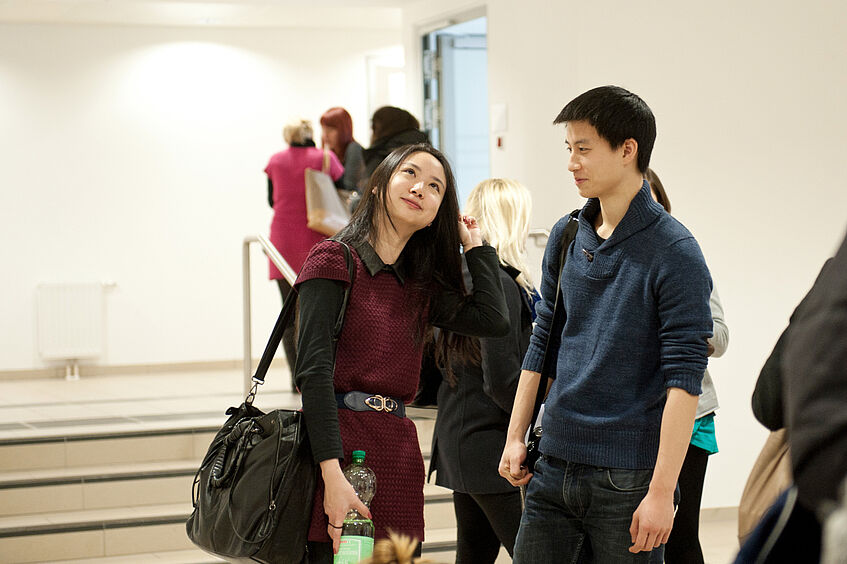 Key Facts
Period of studies: 6 semesters
Workload: 180 ECTS
Language: German/English
Degree: Bachelor of Science (BSc)
Available university places: 764
Admission procedure: yes
The bachelor's programme in International Business Administration aims at equipping students with methodological, institutional and application-oriented management expertise, thereby enabling them to solve business administration problems independently. Special attention will be paid to the needs of the economy in a dynamic and in an international environment.
Moreover, students will not only benefit from a sound education in the field of business administration, but can also choose from a range of extension curricula or occupational fields of the Faculty. This allows students to make the programme fit their personal career aspirations.
Contents and Structure
The bachelor's degree in International Business Administration comprises 180 ECTS and is completed with the Bachelor of Science degree (abbreviated BSc) in at least 6 semesters or 3 years. Bachelor graduates of the Faculty of Economics and Business Administration are guaranteed to receive a place in the corresponding Master's program of the Faculty.
The study is divided into an introductory and orientation phase (STEOP), a core and specialization phase and the bachelor thesis module. In contrast to Business Administration, there is a continuous international focus. In this way, the Specialization Phase offers a big variety of courses which enable a country-specific emphasis. Additionally, different business languages can be chosen.
In order to qualify for a distinct business area, students can elect an additional occupational field of the Bachelor program Business Administration:
Management and Consulting
Production, Logistics and SCM
Marketing Management
Banking and Finance
Accounting
Business Informatics
Public and Non-Profit Management
Economic Law
Economics
Business Statistics
Personal Requirements
No particular previous knowledge is required if you would like to enrol on the bachelor's programme in International Business Administration. However, it is important that you are interested in economic issues and intercultural relations.
So if you would like to know how the international market works, how international companies work together, what is meant by "international resource transfer" and "value added system" and if you are additionally interested in learning foreign languages, the bachelor's programme in International Business Administration is the right fit for you.
Fields of Activity
Graduates from the degree programmes in International Business Administration and Business Administration essentially have the same career options and are qualified to work in leading positions in the field of economics. After completing this programme, leading positions in international companies will be open to our graduates.
Voluntary stays abroad in the course of the degree programme will add to our students' linguistic, subject-specific and cultural competences. Graduates of the Bachelor's program International Business Administration have the opportunity to work in all departments of international businesses.