Bachelor Business Administration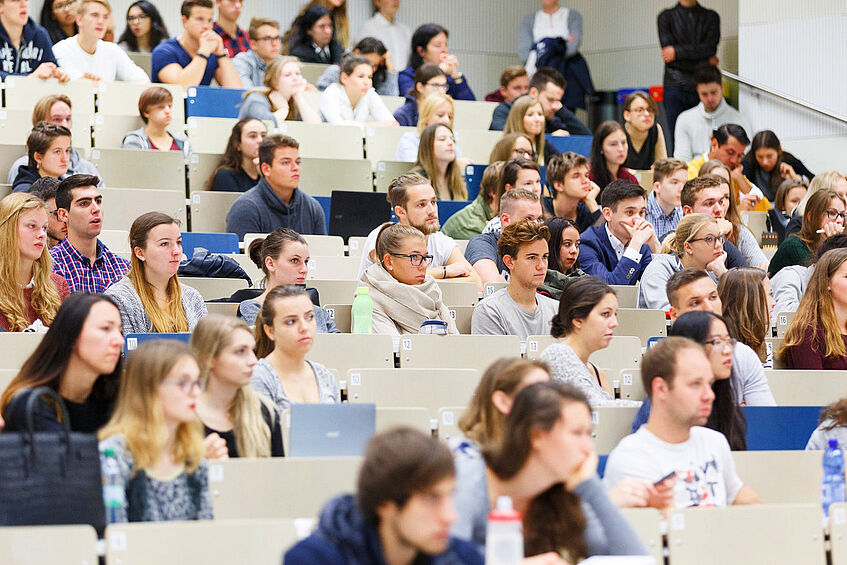 Key Facts
Period of studies: 6 semesters
Workload: 180 ECTS
Language: German/English
Degree: Bachelor of Science (BSc)
Available university places: 549
Admission procedure: yes

Students of the Bachelor's degree in Business Administration gain general knowledge in the core business subjects Marketing, Production and Logistics, Business Management, Finance and Accounting and gain additional knowledge in Economic Sociology, Business and Private Law, Computer Science, Economics, Sociology, Statistics, Mathematics and Business English. Through the teaching of methodical, institutional and application-oriented management knowledge, graduates are able to independently solve business problems.
Contents and Structure
The Bachelor's degree in business administration comprises 180 ECTS and is completed with the Bachelor of Science degree (abbreviated BSc) in at least 6 semesters or 3 years. Bachelor graduates of the Faculty of Economics and Business Administration are guaranteed to receive a place in the corresponding Master's program of the Faculty. The study is divided into an introductory and orientation phase (STEOP), a core and specialization phase and the bachelor thesis module. The general business education is complemented by related subject areas and by the choice of occupational fields, which allows a specialization in distinct business areas.
Students of the Bachelor's degree in Business Administration may specialize in the following occupational fields:
Management and Consulting
Production, Logistics and SCM
Marketing Management
Banking and Finance
Accounting
Business Informatics
Public and Non-Profit Management
Economic Law
Economics
Business Statistics
Personal Requirements
The study of business administration requires no special knowledge, but you should bring fun and interest in solving economic problems and issues. Those who want to know for example what a company's balance sheet tells you, how financial risks can be minimized, how products and services are marketed, how banking works or how energy and environmental resources can be used sustainably should opt for business administration.
Fields of Activity
Those who study business administration have a wide range of career opportunities. In most cases, the later activity will depend on the elected specializations. However, as the study of business administration also teaches basic knowledge and management skills, graduates can in principal gain a foothold in all economic areas and also operate as executive managers.

In addition to studying, internships offer the opportunity to find out in which areas you would like to work later. In addition, it can be used to establish ties with companies and possible future employers.

Voluntary stays abroad complement linguistic, professional and cultural skills.